Yale Beinecke Rare Book and Manuscript Library
Bringing Antiquities into the 21st Century
Yale University's world-renowned Beinecke Library boasts an unparalleled set of rare digital and technical assets. Despite its wealth of resources, an outdated web presence coupled with its inconsistent templates made it difficult to showcase the Library's impressive collections. Message Agency was selected to re-envision the site with a focus on user experience and design architecture. Inspired by the library's revolutionary modernist space, we designed a site that served both users and the administration. The result? A functional, clean, and dynamic website that fit the needs of a media-driven library. Now that's rare.
Content Strategy
E-Newsletter
Kaltura Integration
Audience-Centric Information Architecture
Modular Layouts
Responsive Design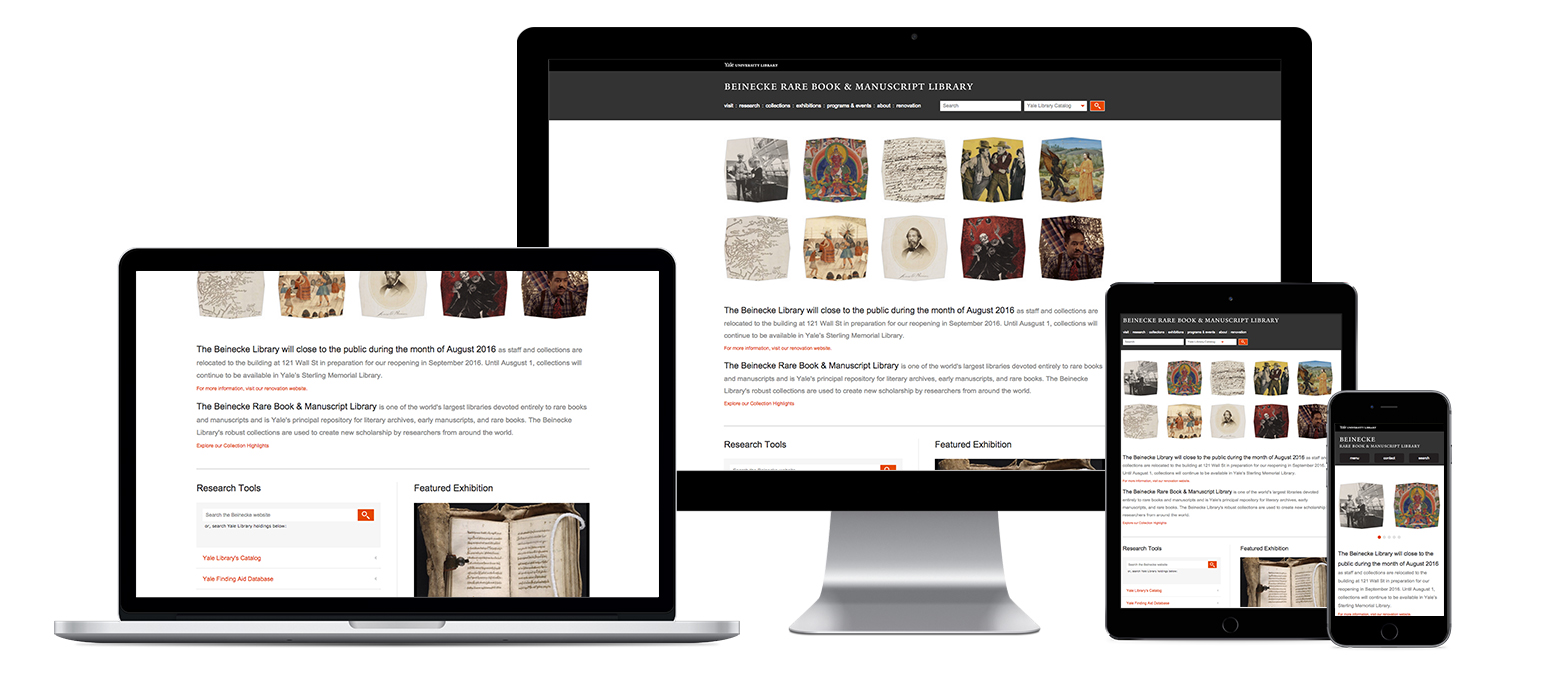 "In addition to developing and implementing an amazing site, we were most impressed with [Message Agency's] project management skills, responsiveness, and their desire to create an optimal user experience for both our public and the staff responsible for administering the site. The end result is a vastly improved online presence that will satisfy the needs of the Library for the foreseeable future."
- Raymond Frohlich, Director of Enterprise Systems and Services, Yale University Library
Information Architecture
Message Agency re-envisioned the site in a way that helped the user experience not only its collections but also the sense of space and architecture in this revolutionary modernist building. We developed an information design and series of streamlined templates that reflect an elegant and clean structure. We also sought to help staff counter text-heavy tendencies by creating highly structured landing pages and other node types to keep the content sharp. Eastern Standard provided the visual design for the site and maintained a clean look and feel to match the architecture. Site administrators report they are overwhelmingly pleased with the authoring experience.
Content Strategy and Management
Message Agency created easy-to-construct landing page, exhibit, and timeline features that help curate the visitor's online experience of collections materials. For example, landing page boxes can be easily created, ordered, and customized using predefined colors or images for backgrounds, providing graphic interest for overview pages. To help administrators easily curate features like the home page mosaic, we automated the masking of collections images to reflect the geometric shape of the building's marble "windows."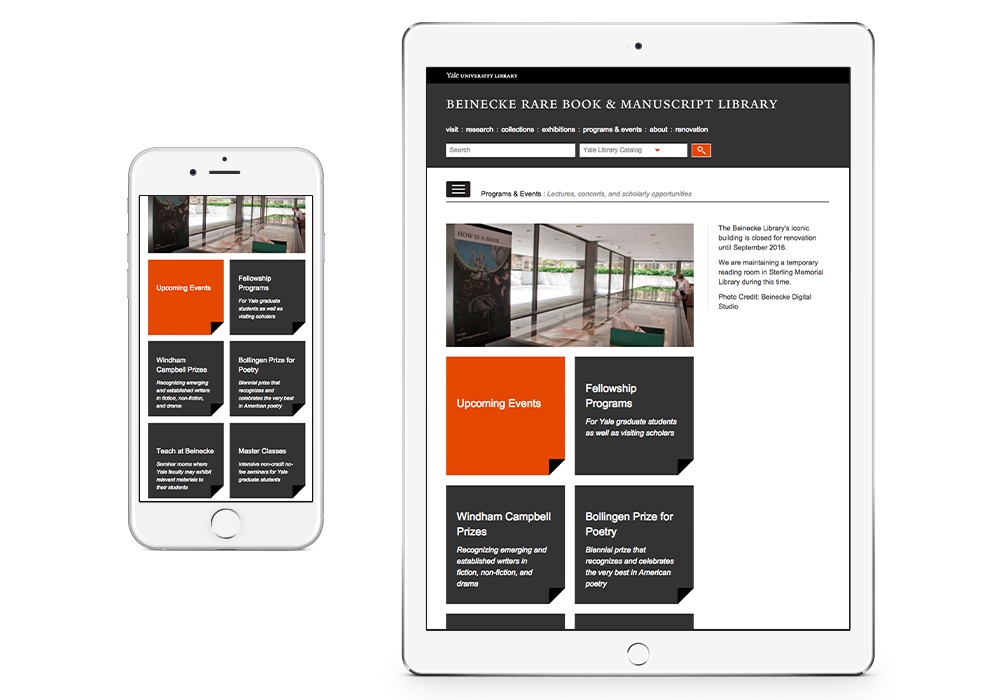 Integrations
Beinecke staff wanted a site that was not only easy to manage but also leveraged the assets and media stored in other systems without creating redundant effort. Message Agency delivered integrations with the Kaltura media content delivery network (CDN), which stores all of Beinecke's video and audio assets, allowing them to easily add multimedia stored in another platform to any node across the site. We also delivered API services so that other Yale websites can consume Beinecke content, along with RSS aggregation to import new collections and finding aids from the main library site's catalog as native content on Beinecke's website.